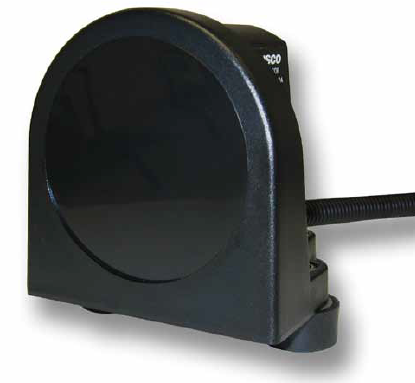 Parker 0740059ECD True Ground Speed Sensor TGSS
Parker 0740059ECD True Ground Speed Sensor TGSS
Downloads:
Quick Specs:
Model Number:  TGSS-A

Part Number:  0740056ECD

Manufacturer:  Parker

Signal Output:  44 Hz/mph

Electrical Connection:  AMP Superseal

Sensor Type:  Speed
Overview:
Parker's True Ground Speed Sensor (TGSS) determines true ground speed using Doppler beam technology and reports the information using a frequency signal. The TGSS has an ABS plastic construction for sturdiness and corrosion resistance. The sensor uses planar antenna, Doppler effect technology for trouble free operation. A microwave signal transmitted out of the sensor is reflected off the target and received by the sensor. The ground speed is calculated by measuring the change in frequency. The sensor can be supplied with one of 2 microwave carrier frequencies, either the standard frequency, or one suitable for the United Kingdom.
The TGSS mounts to a bracket on the underside of the vehicle where the sensor may be pointed in either the forward or reverse direction. Built to meet stringent environmental standards, the sensor is very robust and able to withstand rugged applications.
The TGSS is perfect for agricultural vehicles or other mobile equipment with a steady voltage of less than or equal to 16 Vdc. The sensor has a short cable with either an attached AMP Superseal or a Deutsch DT series connector.
Markets:
Construction equipment

Agriculture machinery

Municipal equipment
Features/Benefits:
ABS plastic body for corrosion resistance

0.3 to 44 mph (0.5 to 70 kph) range

No moving parts, not affected by slippage
Applications:
Tractors

Crop sprayers

Articulated haulers

Salt and sand spreader trucks