OPW AFPCA060UR0402 A-Frame 4 in. Bottom Truck Loading Arm
Original price
$10,141.38
OPW AFPCA060UR0402 A-Frame 4 in. Bottom Truck Loading Arm
This Product:
Part Number:  AFPCA060UR0402
Manufacturer:  OPW Engineered Systems
*Does not include 1004D3-0402 API Load Head Coupler.  Must purchase separately.
Downloads:
Installation Operations Manual
Bottom Unloading Rail Layout Form
Tank Truck Bottom Loading Layout Form
Features:
2"–4" sizes available
Carbon-Steel, Stainless-Steel and Aluminum options
Adjusts for elevation/tilting during loading/unloading
Stores in upright, near-vertical position
Compact storage envelope allows closer installation proximity
Low riser mounting heights
Equipped with dry-disconnect coupling, union or other tight-fill inlet
Choice of flanged, threaded or all-welded construction
LPG service arms (LPG-32-F) feature all-welded construction
Fully customizable
Easy to operate/maneuver 
Eliminates cumbersome hose 
Easily stored away from vehicles 
For multiple product applications, it can be mounted close to another arm 
Can be safely stored to provide for safe clearance of vehicles 
Crossover can easily be achieved
Description:
The "A" Frame Loader is a popular loading-arm configurations due to its flexibility, long reach and convenience of use. Commonly used for tank-truck bottom loading, "A" Frame arms can also be used in top-loading/unloading installations. Inlet flange and seamless piping are suitable for handling liquefied petroleum gases, including propane and butane.
Accessories:
Heating – Loading Arms can be fully or partially jacketed for efficient handling of asphalt, molten sulfur, waxes, resins and other products that are highly viscous or tend to solidify at ambient temperatures. Click here for more information on OPW Heated Loading Solutions.  Loading Arm Insulation – OPW can provide a Custom Insulation Package designed specifically for your loading arm. Unlike field-applied insulation, these packages are completely removable and reusable, making them the ideal solution for loading arm use. Click here to view Loading Arm Insulation Specifications.
Grounding/Bonding – Suggested for many top/splash loading applications. Available as an option on all Loading Arm designs.  Electronic Ground Verification 
 The Civacon model 8030 Ground Verification Monitor is compatible with today's transport ground systems. The monitor is equipped to provide a permissive signal to allow load rack operation and, if  is lost, to indicate a non-permissive signal and shut down the loading operation.
  Safety Breakaway Coupling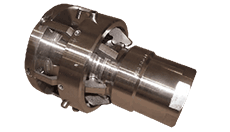 Protects your equipment, piping  personnel in the event of an unintended pull-away. A consideration whenever you are making a tight connection to a truck or railcar. 
Quick & Dry Disconnect Couplings With OPW, you have many options at your disposal for your loading arm termination connections. From the original quick-disconnect Kamlok® coupling to our Epsilon™ dry disconnect coupling, we have a coupling to meet your needs.    API Bottom Loading Couplers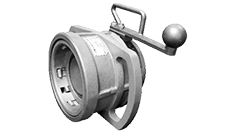 Commonly used for loading Petroleum products, OPW provides several options for loading your Petroleum transports. 
Loading Valves
6400 Series Horizontal Valve

 

– OPW Loading Valves are designed to shut off flow without causing shock in the pipeline. 

Adjustable closure rate 
3" & 4" sizes, Aluminum Construction 
TTMA Flanged connections 
Ball Valves (per application/specification)
Pneumatic Counterbalancing – An alternative to conventional spring balanced loading arm, pneumatics provide the ultimate in loading arm design.
Call RYSX today!
Ask about professional installation and preventative maintenance services!
Typically in stock.